Ask any student, teacher, tour leader, and even the bus driver, what the best part of their trip to Quebec was. We're placing our bets on that maple-filled evening at the Sugar Shack!
Sugar Shacks ("cabanes à sucre" in French) are small cabins in the woods where sap is collected from the nearby maple trees and boiled into maple syrup through a technique originally developed by the Indigenous and passed on to the French colonizers of New-France.
Legend says, it was by seeing a squirrel bite into the wood of a maple tree to lick the water emerging from the cut, that led the Indigenous to do the same, resulting in the discovery of maple sap. On behalf of all maple lovers, I would like to take two seconds to say, thank you squirrel!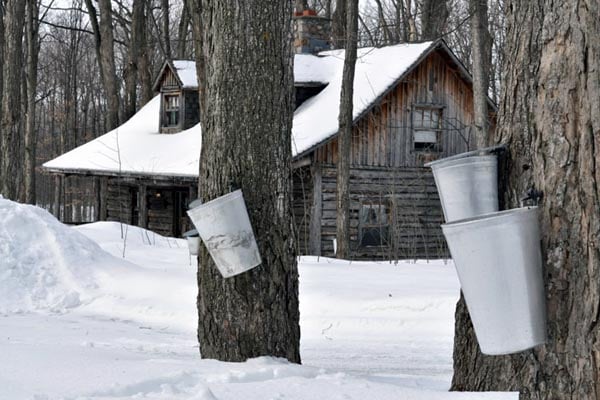 (Image: "Sugar Off" at Quebec's Sucrerie de la Montagne Sugar Shack, courtesy of Ryan Krochko)
Just like our Quebecois ancestors, we still celebrate the arrival of maple sap and of spring by gathering every year with our friends & family at our local Sugar Shacks to feast, dance, listen to live traditional music and have a grand old time.
Interestingly enough, in Quebec, we refer to the period of end of winter/beginning of spring as "le temps des sucres," which translates to "the time of the sugars." I like to think of it as the sweetest time of the year!
So, what's the feast all about?
Although every Sugar Shack has its own unique style, ambiance, and delicious maple-derived products, you're sure to find these delicious classics at any cabane à sucre. There is one rule you should remember, however, and our tour leaders will tell you time and time again... You've got to pour some maple syrup on EVERYTHING. It's a cultural experience after all!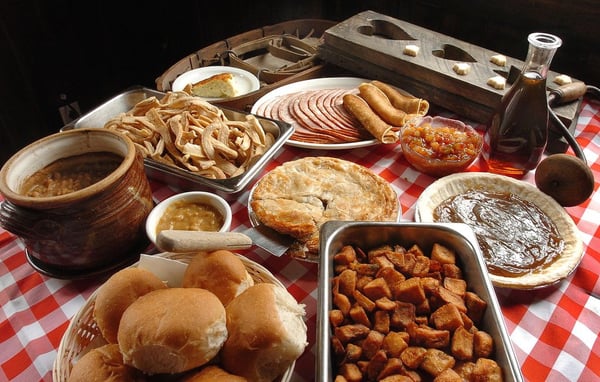 (Image: «Fèves au lard pas d'lard»: des cabanes à sucre deviennent végés, courtesy of La Photothèque Le Soleil)
Let the feast begin : appetizers
As you take place at the family-sized table at the shack, you'll most probably be welcomed with some pickled beets and dill pickles, fruit ketchup (our mothers and grandmothers all have the best family recipe...), and a comforting bowl of warm yellow pea soup with bits of ham hock, in which you can dip some of that fresh homemade bread and butter in.
Now remember, a Sugar Shack meal is long, hefty, and the plates will keep coming and coming and coming. To make it through the whole meal and get to the dancing part, you've got to pace yourself.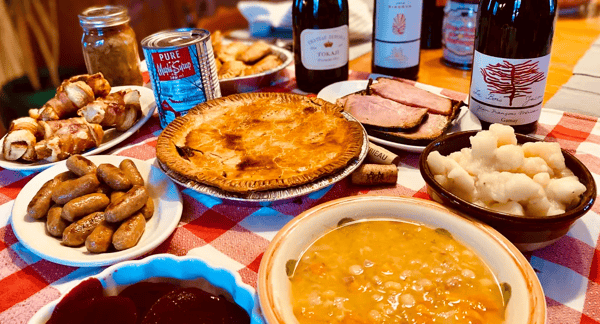 (Image: Six vins pour vos repas de cabanes, courtesy of Natalie Richard)
La pièce de résistance: the main course
Then come the never-ending plates of puffed omelettes, maple-baked ham, maple-baked beans, pork sausages, baked potatoes, meat pie (a great dish to mix your fruit ketchup with!), "oreilles de crisse," literal translation of "Christ's ears," or better known as crispy pork rinds, and cretons, a pork spread resembling pâté, typically eaten with bread.
Don't be shy pouring maple syrup on top of everything! The waiters serve the syrup in pitchers at the table. You will never run out of it, we swear.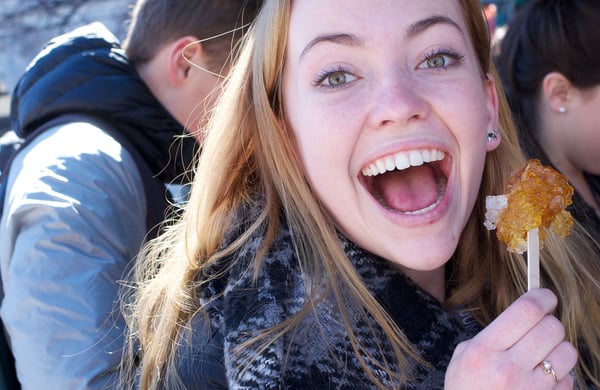 The grand finale: dessert
Dessert typically happens two ways, with crêpes (thin pancakes) and maple sugar pie served at the dinner table as part of the meal. The second part requires to go outside, for what some would say is the best part of the feast, the maple taffy on snow!
Maple taffy is a sugar candy made by boiling maple sap past the stage where it would become maple syrup, but not too long that it would transform into maple butter or sugar. Once it's at the right temperature, you pour syrup strips on snow, wait 10 seconds for the sugar to solidify a bit, and roll it around a Popsicle stick to enjoy. It's sticky, but oh, so delicious. Seconds are almost a necessity!
By now, you've made it through dinner. Time to enjoy burning the feast away as you dance and party like it's 1699 with traditional dances and tunes!
Sugar Shack with a veggie twist
Looking to replace some sugar shack classics with some vegetarian/vegan options? Check these out!