1919 was a big year for technology as North America gets its first-ever radio station.
December 2019 marks the 100 years of making broadcasting accessible to the general public. Here are historical highlights, followed by STEM activities to try out with your students!
December, 1901: Italian electrical engineer Guglielmo Marconi makes history by transmitting the letter 's' in Morse code across the Atlantic, from Cornwall, England, to Newfoundland, Canada.
December, 1906: Canadian inventor R.A. Fessenden also makes history, transmitting his human voice (and a quick violin solo) to receivers on a fleet of commercial ships off the New England coast. This is what it sounded like:
Some believe Marconi gets too much credit for the invention of the radio, while Fessenden doesn't get enough. They both deserve credit for changing communication forever, taking us from asking how far we could send a message to how fast.
In the years that follow, radio completely transforms maritime communications. Morse code becomes the go-to for vessels in the water, especially in emergencies.

By World War I

,
the military leans heavily on radio communication
to send and receive messages in real time, which is both faster and safer than sending human messengers.
By 1919, radio is finding its way to the masses. In March, 1919, using a radio station facility in Ireland, Marconi engineers achieve the first-ever cross-Atlantic voice broadcast to Nova Scotia, Canada. In December, Montreal gets North America's first-ever broadcast licence for station XWA. Soon after, other stations are popping up all over the continent and by the 1930s, the radio becomes the most popular form of entertainment in the world. For decades, radio continues to prosper and find new ways to capture consumers' imagination.
In 1948, to improve the quality of the sound, US scientists William Shockley, Walter Brattain and John Bordeen invent a relatively tiny, efficient and safe alternative to vacuum tubes, which they call the transistor. This completely changes the game: smaller, portable radios are suddenly possible, and while both US-occupied Japan and Germany have a hand in its innovation, the world's first transistor radio is unveiled by US-based Texas Instruments in 1954. In the years and decades that follow, the transistor radio improves and evolves, setting the stage for portable media players that continue to sweep the market to this day.
It's been exactly 100 years since XWA got its broadcast licence. Today, radio is considered one of the defining innovations of the 20th Century, a precursor to television, the internet, social media and podcasts. So how do we talk about the early days of radio to a classroom raised on instant messaging and streaming? We found some educational resources that could help.


1. Dive into the world of Marconi with these K-8 STEM Lesson Plans
Marconi is generally credited for pioneering the radio in the 1890s, though a number of inventors helped either inspire or expand his work, including German physicist Heinrich Hertz, Danish engineer Valdemar Poulsen and, of course, Fessenden.
Either way, it's clear maritime communication was the focal point of this fledgling turn-of-the-Century technology, which is why the Chatham Marconi Maritime Center (CMMC) was founded as a tribute to the Cape Cod-based RCA Wireless Receiving Station Marconi built for his experiments. The CMMC has great stuff for STEM educators looking to teach the fundamentals of radio communication, like this comprehensive Lesson Plan Roadmap for both elementary and middle school students (image courtesy of CMMC).
You'll love this capsule on how radio was instrumental in understanding earthquakes and developing early warning systems for your geography class; there's also this great comprehensive plan on coding and communication engineering.
2. Let's build a working radio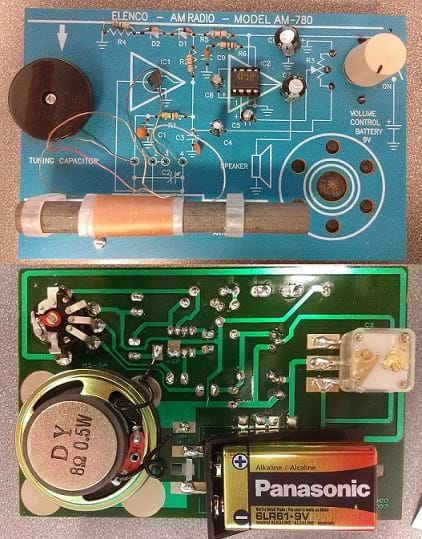 We've come a long way since the early days of radio, and students can be forgiven for not fully appreciating how incredible this technology was for its time. But that's nothing a good practical activity can't fix, right?
That's why we think middle-schoolers will get a real kick out of this lesson plan courtesy of Teach Engineering, which teaches students how to assemble a working AM radio from a kit. It's a group project (2 per group) that takes about four hours to complete (it can easily be broken up across a few sessions).
Paired with another more theoretical lesson plan on how AM radios work, your students will learn about the circuit components required, and why their placement matters to the radio's functionality.
Students will come for the theory but stay for the practice - after all, who doesn't love a good soldering activity? Soldering is vital engineering experience, one of the building blocks.
3. Students get to run their own radio station with The Broadcast Project
We've tackled the history and the science behind radio technology, but how about the business aspect?
Media Smarts' Broadcast Project is just the lesson plan for this. You'll give your students the opportunity to draft their own radio programming schedule based on their research and understanding of audiences, advertisers and markets. Your students will make calculated decisions using insight from each component of a radio program: hosts, content, message, ads and more. And finally, your class will determine metrics for evaluating their programming schedules.
Perhaps a little more Media Studies than STEM, but an essential component in understanding the ins and outs of the radio industry - past, present and future. Besides, the technological aspect is still a critical component of this discourse... the medium is the message, right?