Whether you're gearing up with a costume that will outlast the Canadian cold, preparing to scare your friends silly on your evening of trick-or-treating or getting some popcorn and snacks ready for horror movie night, there's something for everyone to love (or hate, mouhahaha!) on Halloween Night. Dare we say - it would be even better if it could last a little longer?!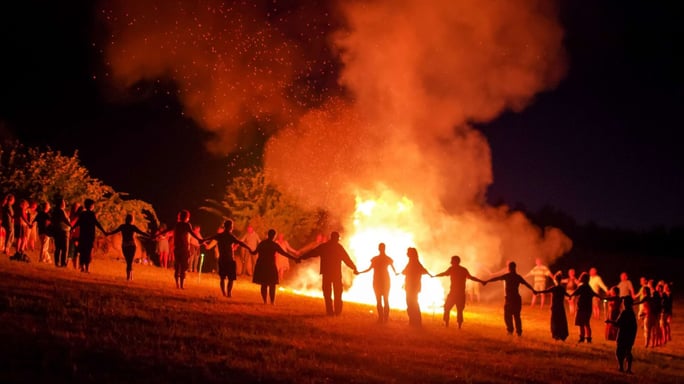 BUT FIRST, THE ORIGIN
The celebrations of Halloween, Día de Los Muertos and All Saints' Day are all believed to originate from the pagan festival of Samhain. Celebrated among the Celts of ancient Britain and Ireland, Samhain was not only a spiritual tradition, but also an agricultural festival that celebrated the midyear harvest, somewhere between the Fall Equinox and the Winter Solstice. The ancient Celts' calendar was divided in two halves: a light half and a dark half. Along with the transition from light to dark, came the belief that the souls of the deceased would come visit the living and play tricks on them.
Within that same spirit is where the main ritual of Samhain came about: the lighting of large bonfires on the hilltops to hold back the darkness and decay of winter and push away the spirits of the other world. Other rituals included wearing masks and costumes, pranking neighbours, and collecting donations to offer to the dead in exchange for peace. Starting to sound familiar?
Today, Halloween is celebrated only one night a year, but back in the beginnings of Samhain, festivities would happen over the course of many days and nights. Well, if you love Halloween like us, we bet you wish we would've kept that part of the tradition too! Lucky for you, we know our spooky travel destinations very well, so we came up with some fantastic suggestions on how you could extend Halloween.
Here's how you can add a pinch of scary to your next student travel itinerary!
BOSTON
Add a half-day trip to Salem
Salem and Halloween have long been connected, beginning with the tragic events that unfolded during the infamous Salem Witch Trials of 1692-1693. The series of hearings and prosecutions of people wrongly accused of witchcraft, through Puritan belief only, eventually led to the execution of 20 innocent victims.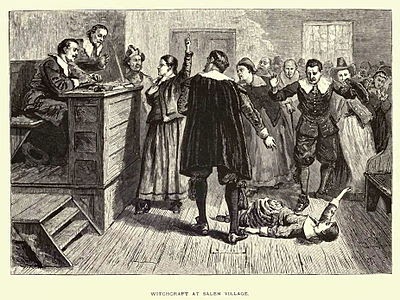 Arthur Miller's 1953 play, The Crucible, which partially fictionalized the story of the Salem Witch Trials, and the unveiling of the Salem Witch Trials Memorial during the tercentenary of the events in 1992, both played a role in reinvigorating the image of Salem, Massachusetts, and its unique connection to witchcraft and sorcery.
In 1982, the city held its first Salem Haunted Happenings Festival on Halloween weekend. Attracting over 50,000 curious folks during the first edition, the festival has since continued to grow and attracts visitors worldwide. The festival now happens during the full month of October so that everyone can take part in the action.
Only 40 minutes North of Boston, you can easily add a half or full-day trip out to Salem to your Boston itinerary. Some of our favourite stops include The Gallows Hill Museum and Theatre, The House of the Seven Gables, inspired by Nathaniel Hawthorne's 1851 novel, shopping along Essex Street, and visiting the Old Burying Point Cemetery and Salem Witch Trials Memorial. You can also check out these options for more inspiration.
NEW YORK CITY
Visit Sleepy Hollow for a half-day
As opposed to the truth behind the gruesome witch stories of Salem, Sleepy Hollow's spooky aura comes from Washington Irving's classic tale The Legend of Sleepy Hollow.
Legend says, a headless horseman, believed to be the ghost of a soldier who lost his head to a cannon ball during the Revolutionary War,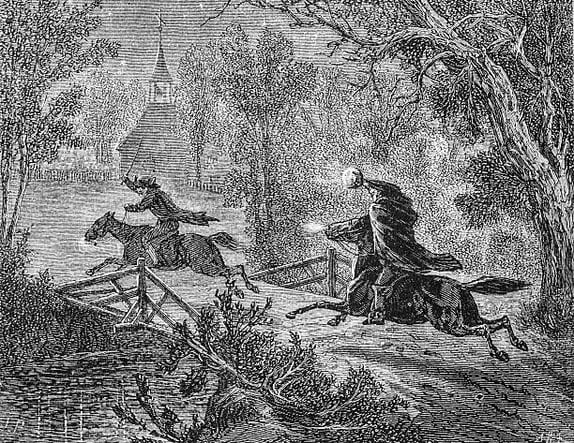 would ride his horse and terrorize the people of Sleepy Hollow at night in search for his head. A local schoolmaster, Ichabod Crane, was said to have encountered the headless horseman near Sleepy Hollow's famous Old Dutch Church as he was leaving a party one night. Never to be seen again, the only personal belonging left behind was Ichabod's hat lying next to a smashed pumpkin.
First published in 1820, this tale has been reimagined and retold for over 200 years. Set in North Tarrytown, in New York's Hudson River Valley, the city even renamed itself Sleepy Hollow in 1996 to capitalize on the story's fame, although some consider the village to still be haunted.
Located about an hour North of Midtown Manhattan, Sleepy Hollow is the perfect stop upon arrival or departure of your trip to New York. Top attractions to visit include the Old Dutch Church, the bridge over the Pocantico River where the Headless Horseman pursued Ichabod Crane, and Sleepy Hollow Cemetery, where Irving is buried.
OTTAWA
Take a ghost tour of the Ottawa Jail Hostel or spend the night if you dare
This imposing building in the heart of Canada's capital served as the Carleton County Gaol from 1862 to 1972. Known to outsiders as a luxurious reformation prison that provided safe housing and resources to rehabilitate prisoners, it was in fact the exact opposite on the inside.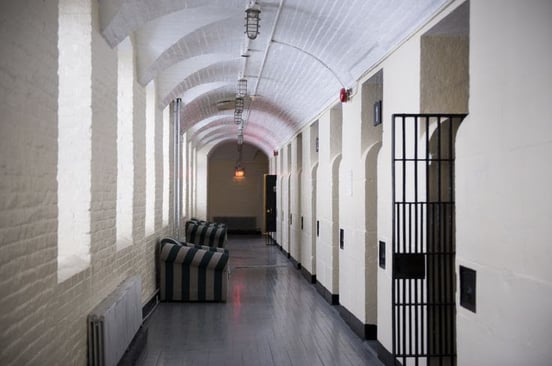 What awaited prisoners were overcrowded jail cells with no bathroom facilities, barely any windows and daylight, extreme weather conditions, and absolutely no activities to pass time. Whether it be from starvation or disease, many of the prisoners have never come out, and from what we hear from visitors today, many of their ghosts are still lurking around. Their most famous ghost is of Patrick Whelan, who was executed in the prison's gallows for the assassination of Thomas D'Arcy McGee, one of Canada's Fathers of Confederation.
Although the Ottawa Jail Hostel is known as one of the most haunted structures in all of Canada, it is a definite must see for any trip to Ottawa. Located right in the downtown core, you can have your group spend the night in a shared jail cell or simply head out there for a guided tour to top off an evening on your trip to Ottawa. Night terrors or sweet dreams? You tell us!
NIAGARA FALLS
The Daredevils of the Falls and Haunted Houses of Clifton Hill
Nicely squeezed between the U.S. and Canadian borders, the American, Bridal Veil, and Horseshoe Falls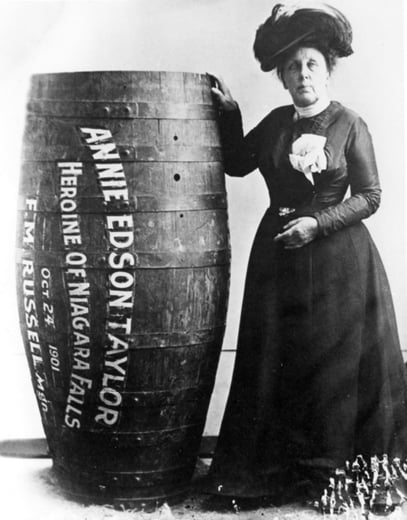 have an aura and power about them that can only really be understood in person. Not only have millions of curious tourists travelled across the world to see this natural wonder in person, but daredevils have also been flooding to Niagara Falls for years, in attempt to challenge their fate with the roaring falls.
In 1902, Annie Edson Taylor, a schoolteacher from Lockport, New York, became the first known person to successfully take the plunge over Niagara Falls in a barrel. She never got the money and fame she was looking for with the stunt but did, however, inspire a number of new daredevils seeking to take their own illegal trip down the Falls. And if taking a trip down the falls in a barrel or rubber ball isn't enough, many adrenaline seekers have also tried to tightrope across the falls, such as did the famous French aerialist, the Great Blondin.
Although we like to celebrate the daredevils that have beat the Falls, most people haven't, which makes for quite a ghostly recipe. Curiously enough, Clifton Hill, Niagara Falls' most famous street, is home to Canada's scariest haunted houses and attractions. Coincidence? We think not!
Only 1.5 hours away from Toronto and 30 minutes away from Buffalo, Niagara Falls makes for the perfect day trip from any of these destinations. Wanting to stay for a full 3 days? There's plenty to do as well - we suggest you add a stop in beautiful Niagara-on-the-Lake, if so. Our top scary Clifton Hill attractions include the Nightmares Fear Factory (!), Zombie Attack, and the House of Frankenstein.
MONTREAL
Retrace the steps of horror films and ghost stories in Old Montreal
Home to the National Film Board of Canada, and to 50 film studios where 600 productions are shot every year, Montreal has built quite a reputation for itself as the hub of the film industry in Canada. For the past 60 years, the diversity of Montreal architecture has attracted filmmakers worldwide. While the architecture in Old Montreal can pass for parts of Europe, and the suburbs for many U.S. states, the Old Port and the downtown core are quite reminiscent of New York. Add Montreal's incredible special effects scene to the mix, and just about any city in the world can be recreated in one place.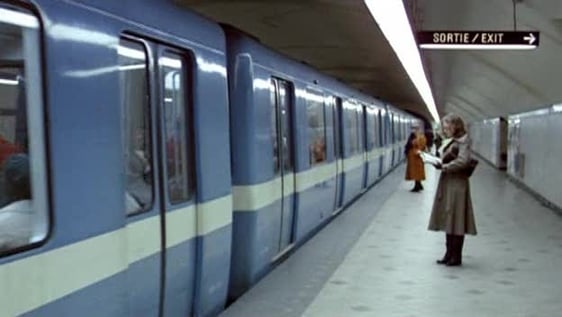 Horror movies are no exception! In a city that has had over 150 documented ghost stories, this shouldn't come as much of a surprise. Ghosts of Montreal's past have been roaming the island for hundreds of years, our favourite of which are the Algonquin warrior atop Mount Royal, the headless ghost of Mary Gallagher in Griffintown, the paranormal activity that is said to happen in Dorchester Square after nightfall, and the oddly troubling ghost of Beaupré the Giant, who was exposed in a wax museum in the old Red-Light district.
Famed Canadian film director David Cronenberg was so drawn to the eeriness of Montreal that he actually filmed three of his horror movies there. Other creepy movies filmed in Montreal include The Score, featuring Marlon Brando and Robert DeNiro, Zoe, filmed at locations such as McGill University, Griffintown, and the Lachine Canal, and Agnes of God, featuring Jane Fonda and famous St-Denis and Notre-Dame Streets. Check out this list of 7 creepy movies filmed in Montreal for more!
Add an evening ghost tour to your Montreal itinerary or roam the streets of Old Montreal by night to witness Cité Mémoire, a free activity of 25 ghostly projections through the city that tell the story of Montreal's past.
Want to see how you can spice up your itinerary even more?
Check out our options online!