Holiday season is upon us - there are so many different cultural celebrations going on. But how can we show them all some love in the classroom? These lesson plans will help.
December 2019 marks the 100 years of making broadcasting accessible to the general public. Here are historical highlights, followed by STEM activities to try out with your students!
1. History: A Colonial Christmas in Williamsburg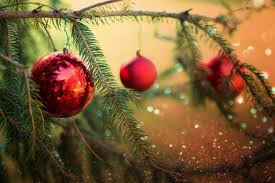 Christmas in colonial Virginia was not unlike the first Thanksgivings: feasting on and celebrating the harvest with close family and friends. Unlike today though, where the Christmas hype train pulls in as early as November 1, the holiday season in eighteenth-century Virginia only kicked off on December 24, and culminated with a big party called Twelfth Night on January 6.
This lesson plan courtesy of History.org
will help your Middle School students understand the fundamental differences between Christmas then and now by getting them to plan a colonial Christmas event!
You'll need three lesson periods of 60 minutes each. The lesson plan includes a graphic organizer and eighteenth-century recipes for your event's menu (image courtesy of History.org).
2. Math: Calculating the Cost of the 12 Days of Christmas
Ah, the 12 Days of Christmas, a true Holiday classic. Have you ever wondered what it would cost to give your loved one all those gifts leading up to Christmas, though? You might find yourself relying heavily on Black Friday deals...
This activity courtesy of Teachnology transforms the iconic song into a template for helping young Middle School students understand the cost of Christmas gift-shopping. The plan includes a worksheet that your class would use to calculate the cost of each item over the number of days it's being gifted. For example: the first gift is a partridge in a pear tree and you're gifting twelve of them over the course of the song, so students will need to calculate 12 x the cost of the gift into the total amount. Day twelve is going to be pricey!
With the use of graphs, tables, and symbols, this activity is designed to help your class model and solve problems involving rates of change and ratios. Enjoy! (image courtesy of Wikipedia)
3. Math: Probability and Spinning the Dreidel
Though the Dreidel isn't technically a Hanukkah mandate or mitzvah, it has become an age-old symbol (and game) for the Jewish holiday. The distinct symbols printed on each side originally represented mnemonics for a game, though today they have taken on a more spiritual meaning.
Teachnology has come up with a great activity that gets middle school students to use a Dreidel to practice probability. In small groups or pairs, your students will need to complete a worksheet with questions like:
1. Spin the Dreidel 9 times: what is the probability of getting a gimel or a shin?
2. Roll the Dreidel 2 times: what are all the possible combinations?
4. Social Studies: Thinking Questions for Kwanzaa
Using their Kwanzaa holiday scrapbook, Scholastic has an amazing lesson plan designed to get your Middle School students thinking about the past, present and future of this African holiday. It can be a written exercise, or simply a discussion topic, with questions like:

What do you think is the meaning of Kwanzaa in the context of a present-day American holiday?

Which of the seven principles of Kwanzaa do you identify with the most and why? What's an example of this principle in your own life?

What is an example of a gift that might be given for Kwanzaa? What makes these gifts special?
(image courtesy of History.com)
5. Literature: Using Textual Clues to Understand Dickens' A Christmas Carol
Charles Dickens' A Christmas Carol is not only a great Christmas story but also a great story in general. Yes, it's heavily steeped in Christmas themes and tropes, but the protagonist's redemption from stone-hearted grump to warmed-hearted softy is a classic character arc for the ages.
Edsitement is a three-lesson plan designed to get your Middle and High School students to build their vocabulary and critically analyze the story. The activity will help them understand the importance of language, character-building and themes in fiction.
It's fairly comprehensive - you may need to bookmark this one for next year - but with the right planning and time you and your students could really dive deep into this wonderful tale (image courtesy of Wikimedia Commons).