There is so much to see when visiting Québec City, but beware of your surroundings when walking around the Old City, because you might just bump into a trompe l'oeil mural - a mural that tricks the eye!
The most famous of which is La Fresque des Québécois, a captivating mural at the very bottom of Côte de la Montagne that vividly portrays the province's rich history and cultural heritage. This immense outdoor fresco, that measures over 400 feet in length and 40 feet in height, brings travellers on a trip through Québec's past and present, showcasing key moments, influential figures, and pivotal events that shaped Québécois identity through time.
Let us get you ready for your next student trip to Québec, and help you identify them and their legacies to Québécois history.
---
Jacques Cartier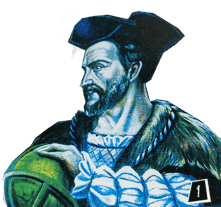 Jacques Cartier (1491-1557) was a French explorer credited for his voyages being the first European contact with what is now known as Canada. His exploration of the St. Lawrence River, led to France's claim on the territory, and laid the foundation for subsequent French exploration and colonization in North America, including the establishment of New France. Jacques Cartier did a total of 3 trips to Canada; the first in 1534, the second from 1535 to 1536, and finally from 1541 to 1542. Cartier's voyages, specifically his exploration of the Gulf of the St. Lawrence and his description of the region, provided valuable knowledge for future explorers and settlers. His legacy includes setting the stage for French influence in Québec and North America, and mapping and understanding the Canadian territory.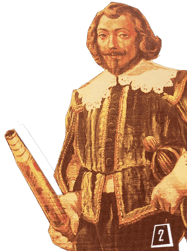 Samuel de Champlain
Samuel de Champlain (1567-1635), often called the "Father of New France," was a French explorer, navigator, and cartographer who established the first permanent French settlement of North America in Québec City in 1608. Serving as Governor, Champlain's vision and leadership played a pivotal role in the French colonization of Canada, which shaped the province's cultural and linguistic identity. He forged alliances with the First Nations, including the Hurons and the Montagnais, promoted trade, and explored the region, expanding the influence of France. Champlain's legacy is pivotal in Québec history, famously contributing to the territory's' unique Francophone heritage. Keep an eye out for his statue if ever you are near the Château Frontenac in Québec City.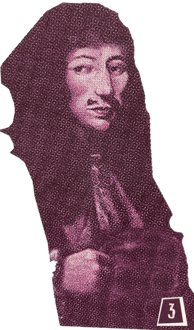 Jean Talon
Jean Talon (1626-1694) was a French colonial administrator who served as the first Intendent of New France. Before his arrival, the colony of New France was in a state of weakness and destitution following disease, wars, and poor governance of the colony because of greed in the fur-trading business. Talon's mandate was to put the colony back on its feet, ensure the colony's development, and help reaffirm royal authority. And that's exactly what he did. In less than 6 years, Jean Talon revitalized the agriculture, fur trade and naval industries, and most famously, oversaw the arrival of Les Filles du Roi ("the King's Daughters") to balance the number of men and women living in the colony, therefore promoting the growth of population. Jean Talon returned to France following his mandate in the colony to work in the coveted office of secretary of the King of France's cabinet. Today, if you're visiting Montreal, we highly suggest you stop by the Marché Jean Talon, this biggest and most delicious farmers' market in the province.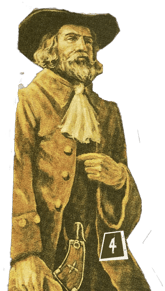 Louis Jolliet
Louis Jolliet (1645-1700) was a French-Canadian explorer raised in the colony of New France. He spent his young years on l'Ïle d'Orléans (the Island of Orleans, near Old Québec), home to First Nations, where he began speaking many Indigenous languages at a very young age. Having always been interested in bodies of water, Jolliet spent a year in France studying hydrography before returning to New France to work in the fur trade industry. It was only in 1667, when a peace treaty between the French and the Iroquois marked the water routes as safe for fur trade, that Jolliet truly began his exploration of North America. Most famously, Louis Jolliet and Jacques Marquette were mandated to explore what was called by Native Americans as the "Mesipi" river to determine where it led to, in the hopes of finding a passage to Asia. Their travels confirmed that the waterway did indeed discharge its waters into the Gulf of Mexico – although they believed it flowed into the Seas of Japan or the China Sea. Following this important discovery, Jolliet continued exploring Québec and mapping waterways as he returned to the fur trade industry. Jolliet's legacy as a brilliant mapmaker and explorer lives to this day, throughout North America.
Louis de Buade de Frontenac
Louis de Buade, Count of Frontenac (1622-1698), had a profound impact on Québec's history in the late 17th century. Serving twice as Governor of New France, he defended New France against English and Iroquois threats, preserving its territorial integrity. Frontenac's tenacity and leadership played a critical role in maintaining a French presence in North America. His relations with Indigenous peoples were essential in securing alliances. Additionally, he supported the growth of Québec City, fortifying it and encouraging trade. Frontenac's legacy in Québec lies in his military and diplomatic abilities, strengthening the colony's position during a period of intense colonial competition and laying the foundation for its future development. One of his first acts as governor was to establish a fur-trading post on Lake Ontario named Fort Frontenac. He helped extend the borders of New France and organized Québec's defence system.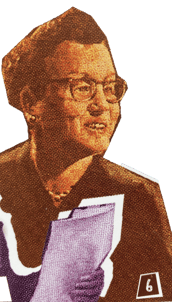 Thais Lacoste-Frémont
Thais Lacoste-Frémont (1886-1963) was a Québécois lawyer and advocate for women's rights and gender equality. Her tireless efforts were instrumental in pushing for legal reforms that improved women's status in Québec, particularly in the areas of family law and gender discrimination. She was a member of the founding committee of the Sainte-Justine Hospital and the Association des Femmes Conservatrices du Québec, the establishment of which was incredibly complicated by the fact that these institutions were solely administered by women, and married women had no legal capacity at the time. Lacoste-Frémont's legacy includes her role in the creation of Québec's Ministry of the Status of Women and her contributions to the province's Charter of Human Rights and Freedoms. Her work continues to inspire those dedicated to promoting gender equality, and her impact on Québec's legal and social landscape.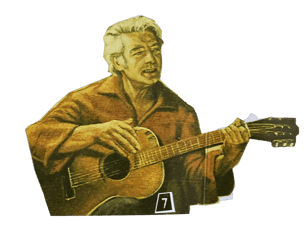 Félix Leclerc
Félix Leclerc (1914-1988) was a renowned Québécois singer-songwriter who significantly contributed to the province's cultural identity. Through his folk music and poetic lyrics, he celebrated Québec's heritage, language, and culture. Leclerc's songs, like "Moi, mes souliers" and "Le Tour de l'île" (referring to l'île d'Orléans, where he lived for over 20 years), resonated deeply with Québécers, fostering a sense of pride and unity. His work became emblematic of the Quiet Revolution in the 1960s, a period of cultural and social change in Québec. Félix Leclerc's legacy continues on as a cultural icon who helped shape Québec's modern identity, and a symbol of the province's artistic and linguistic vitality. With 20 albums and more than 150 songs released, Félix Leclerc is right up there with the world's great French language singers.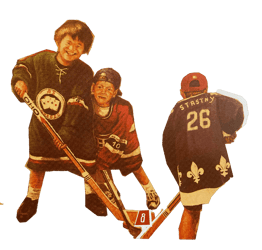 Jean Béliveau, Guy Lafleur and Peter Statsny

Ice hockey is such an important part of Québec culture, that it had to be represented on La Fresque. The 3 children represent Jean Béliveau, Guy Lafleur and Peter Statsny and are wearing jerseys from iconic hockey teams from Québec's past: the Bulldogs (start of the century), the Aces (1935 to 1953) and the Nordiques (1972 to 1995). Jean Béliveau, Guy Lafleur, and Peter Statsny left an indelible mark on the history of Québec, transcending their roles as hockey players. Béliveau's leadership and skill made him a symbol of Québécois pride, both on and off the ice. His tenure with the Montreal Canadiens coincided with a period of unparalleled success, contributing to the team's cultural significance in the province. Guy Lafleur, known as the "the Flower," epitomized flair and skill. His electrifying style of play and dynamic personality captivated fans, turning him into a cultural icon. Lafleur's impact extended beyond hockey, influencing popular culture and cementing his place in the hearts of Quebecers. As for Peter Statsny, and his famous hockey player brothers, they broke barriers as Czechoslovakian players in the NHL. Their arrival in Québec showcased the international appeal of the sport, fostering a sense of diversity and global connection in the province.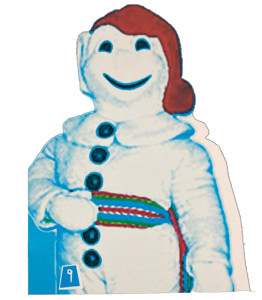 Bonhomme Carnaval
Bonhomme, the iconic snowman mascot of the Québec Winter Carnival! Serving as a symbol of winter festivities and French-Canadian traditions, Bonhomme Carnaval has become an integral part of Québec's cultural identity. The Winter Carnival itself, dating back to 1894, has evolved into one of the world's largest and most renowned winter celebrations. Bonhomme embodies the resilience and joy of Québécois people during the challenging winter months. The mascot's presence during the famous festival fosters community spirit, drawing locals and visitors alike to participate in a variety of events, from its iconic parades, to all of the festival's winter activities. Bonhomme has left an enduring mark on the province's history, creating cherished memories and reinforcing the importance of embracing winter as an integral part of Québec life. Never heard of Bonhomme and the Carnaval de Québec before? Head to this blog post for 5 Cool Facts about the Québec City Winter Carnival.
---
*If you were participating in our poster-challenge Find these characters on the Fresque des Québécois, all your answers can be found above. But since we couldn't stop there, here are a couple more characters to deepen your knowledge in preparation for your next trip to Quebec!
*Si vous participiez au défi-affiche Trouvez ces personnages sur la Fresque des Québécois, toutes vos réponses se trouvent plus haut. Mais comme nous ne pouvions pas nous arrêter là, voici d'autres personnages afin d'approndir vos connaissances en préparation de votre prochain voyage à Québec!
---
Marie-Josephte Fitzbach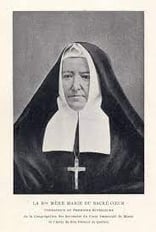 Marie-Josephte Fitzbach (1806-1885) was the first ever person born in Québec to found a religious order, the Good Shepherd Sisters of Québec. Throughout her lifetime, she was involved in educational and charitable works intended to help women. She first established St. Magdalen's Refuge, a home for women released from prison, and then created a French and English class for young girls when the refuge moved to a bigger location in Québec's Quartier Saint-Louis. Two years later she built a shelter for unmarried pregnant women in the same area. It was in 1855 that she founded the Good Shepherd Sisters of Québec to help protect the legacy that she had built for women. In 2012, Pope Benedict XVI declared Fitzbach venerable in acknowledgement of her heroic virtues.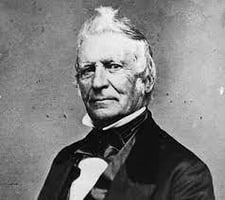 Louis-Joseph Papineau
Louis-Joseph Papineau (1786-1871) was a fervent advocate for French-Canadian rights in the 19th century. As the leader of the Patriotes during the Rebellions of 1837-1838, he fought for political reform and more self-governance for Québec. While the rebellions were quashed, Papineau's legacy lies in his role as a symbol of French-Canadian nationalism and his impact on Québec's political landscape. Papineau's legacy endures as a champion of linguistic and cultural rights for Québec's French-speaking population, influencing the province's historical and political identity. Interesting fact to note, is that he was very well known for his intelligence. There is even a French-Canadian expression after him: « Ça ne prend pas la tête à Papineau » (It doesn't take Papineau's head'), which we use to say that someone doesn't need to be too intelligent to understand.
Lord Dufferin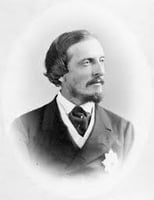 Frederick Hamilton-Temple-Blackwood (1826-1902) of his full name, served as the Governor General of Canada from 1872 to 1878. During his 6 years as governor, he made substantial efforts to bridge cultural and linguistic divides in Canada. He was a strong advocate for bilingualism and multiculturalism, recognizing the importance of French and English cultures in the nation's identity. Dufferin's commitment to unity and diplomacy helped mitigate tensions between Anglophone and Francophone communities. His legacy in Québec and Canada is one of fostering national cohesion, promoting linguistic harmony, and laying the foundation for the country's multicultural identity. You will also most certainly hear this name while travelling to Québec, as you stroll along the Terrasse Dufferin alongside the Château Frontenac.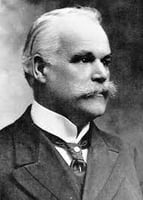 Alphonse Desjardins
Alphonse Desjardins (1854-1920), a key figure of Québec's history, is renowned for pioneering the North American credit union movement. In 1900, he founded the first credit union in North America, the "Caisse populaire" (now Desjardins), to address financial challenges faced by working-class Québécers. His innovative approach to cooperative banking and continued fight to adopt laws recognizing his suggested model of savings, helped provide affordable and accessible financial services, promoting economic stability and financial inclusion. Desjardins' legacy in Québec and beyond includes the enduring success of the Desjardins Group, one of the largest financial institutions in Canada, still to this day.
Marie Guyart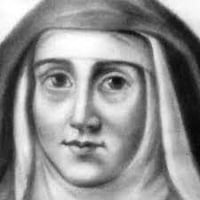 Marie Guyart (1599-1672), known as Marie de l'Incarnation, was a 17th-century French Ursuline nun who played a pivotal role in the educational and spiritual guidance of French and Indigenous girls in New France. Her establishment of the Ursuline Monastery in Québec City marked the beginning of female education in North America. Marie de l'Incarnation's legacy in Québec includes her profound influence on the development of Québec's religious and educational institutions. Her dedication to teaching and her religious writings continue to be celebrated, making her a significant figure in the history of Québec and a symbol for women's contribution to the province's heritage.
François-Xavier Garneau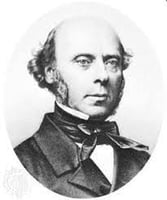 François-Xavier Garneau (1809-1866) was a prominent 19th-century historian, poet, and journalist, who's magnum opus, "Histoire du Canada," published in the 1840s, is considered a foundational work in Canadian historiography. Garneau's meticulous research and dedication to preserving Canada's history earned him the title of the "father of Canadian history." Garneau's work was instrumental in promoting a distinct Québec identity, emphasizing the province's French-Canadian heritage. His commitment to capturing the essence of Québec's history and culture make him one of the most important French-Canadian historians of the XIXe century in the preservation of the province's unique identity, and the Québec nation we know today.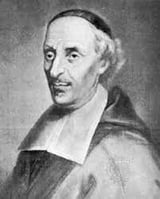 François de Laval
François-Xavier de Montmorency-Laval (1623-1708) was the first bishop of the diocese of Québec, which at the time, extended from Acadia to Louisiana. Education being at the forefront of his mission, he founded the Séminaire de Québec (a community of priests), the Petit Séminaire (a school for young boys), the Grand Séminaire (for candidates to priesthood), as well as a school for craftsmen. De Laval was much admired for his pastoral work among the First Nations and the settlers of New France, opening schools to First Nations and defending them from merchants and governors who exploited them through the sale of alcohol. He has also been credited with his brilliant administration in helping develop the Côte-de-Beaupré region of Québec, which many of our student groups travel to on their trips to Québec City. The Séminaire de Québec now honours Laval's name, as it was later established as Laval University, the first French-Language University in North America.r.
Catherine de Longpré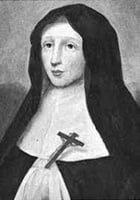 Catherine de Longpré (1632-1668) was one of the many dedicated nuns that left Europe to help the Hôtel-Dieu de Québec hospital take care of the newly arrived colonizers of New-France. After miraculously surviving the boat ride herself due to the plague, she went on to help the sick, even learning First Nations languages so that she could serve their communities better. Catherine de Longpré was beatified by Pope John Paul II in 1989 for her self-sacrifice for both the European settlers of the colony of New-France and the First Nations, and was honoured as one of the founders of the Catholic Church in Canada because of her legacy.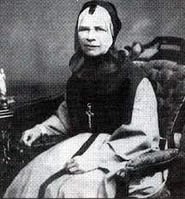 Marcelle Mallet
Marcelle Mallet (1805-1871) was chosen to found the Sisters of Charity of Québec after having taken full responsibility of the Sisters of Charity congregation of the Montreal General Hospital during the 1847 typhus epidemic. Once established in Québec City, it didn't take long for Mallet to have a philanthropic impact on the community. She established a relief service for needy children and provided a home for orphans, people with disabilities, elderly people and new immigrants with no place to stay. Marcelle Mallet was recognized venerable by Pope Francis I in 2014, and the former convent of the Sisters of Charity of Québec is now a Québec heritage building, known as the Maison Mère-Mallet.
All freshened up on Québec history?
Now it's time to spot these iconic characters in person on your next trip to Québec. Don't forget to tag us (@jumpstreettours) on your Instagram pictures in front of La Fresque des Québécois.